USR Call Director - a small investment for big savings.
Are you paying for 2, 3 or 4 telephone lines?
Most businesses juggle multiple voice lines, fax machines, Point of Sale & Credit Card terminals by using multiple telephone lines and keeping them seperate so the different calls go to the right equipment.
What you may not know is that you don't need all those lines — you need a USR Call Director, USRobotics' new phone/fax/modem switch. This line sharing device can automatically route the calls to the correct equipment every time and can even be used to manually transfer calls to the right equipment.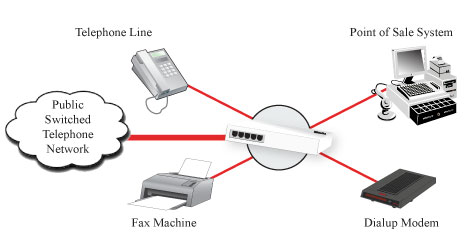 The Problem: Multiple Telephone Lines
The amount of faxes decrease every year but you still need a fax machine.
POS and Credit Card terminals require short but quick access, typically through a modem.
That backup phone line is just that - a back up.
The Solution: 1 Telephone Line
Telephone line sharing allows equipment to share 1 line and put more money back into your budget with a 3 month ROI
Add more equipment (up to 4 devices) without the need to pay for additional telephone lines
Why Buy the USR Call Director?
Eliminate unnecessary phone lines
Add new equipment without the need for new telephone lines
Automatically direct calls to the right device
Programmable with manual transfer options and even preserved after a power outage
Perfect for Businesses with applications like Out-of-Band Network Management, POS, Fax Machines, Credit Card Terminals, Energy Management/HVAC, and Time & Attendance.
Get the Call Director
Learn more about the USR Call Director and how you could be saving money instantly.