Increasing the Range of the Wireless Network
WDS (Wireless Distribution System) lets you increase the range of your WLAN by linking your Wireless Router to other base stations, such as access points and bridges. Clients can roam freely within the entire area covered by the WDS.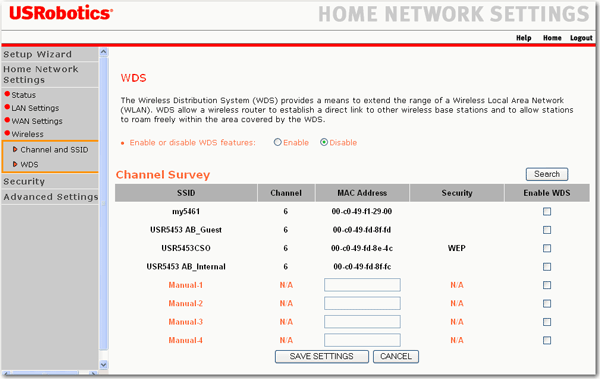 Enable/Disable—Determines whether the Wireless Router uses WDS.
Search—Performs a site survey and refreshes the list of available wireless base stations
SSID—The Service Set ID (SSID) is the name of your wireless network. The SSID must be the same on the Wireless 11g Router and all of its wireless clients.
Channel—The same channel must be in use on all devices. The Wireless Router supports the following modes: 11g only, 11b only, 11b/g mixed mode, Super G-Dynamic Turbo, and Super G-Static Turbo.
MAC Address —The media access control address (MAC address) is a unique identifier attached to each wireless base station.
Security—The security mechanism in use.
Enable WDS—Enables the WDS feature for the listed device.
To configure the router to use WDS, perform the following steps:
To let the router communicate with base stations, select Enable.
For each base station with which the router is to communicate, select Enable WDS.

To use a device that is not displayed, use one of the Manual lines to enter the MAC Address of the device. Remember to select Enable WDS for the devices that you add manually.

Click Save Settings.