If my ADSL provider does not require a password, how do I configure my PPP settings?
Certain ADSL Internet providers do not require that a password be used to establish an Internet connection. The original firmware shipped with the USRobotics ADSL Routers will not allow a PPPoE or PPPoA connection without a password for your ISP. If you need to connect without a password, please upgrade your USRobotics ADSL Router to the latest firmware available from the USRobotics support page. Once the new firmware is installed, it will be possible to establish an Internet connection without providing a password.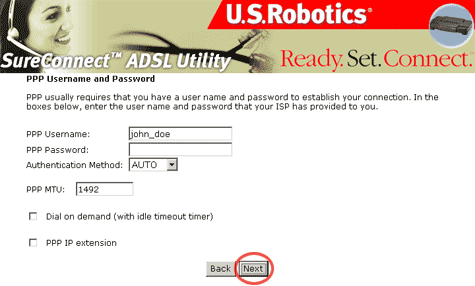 Click on one of the following links to access your product's support page (US Only) for all other regions go to www.usr.com/support and choose your region, then product..
USR9105 SureConnect ADSL 4-Port Router
USR9106 SureConnect ADSL Wireless Gateway